Welcome to GuestHouse Heidelberg
Time-lease studio apartments in the heart of Heidelberg, a value for money option
Whether you stay for days, weeks or months, we make sure you are comfortable. Your wishes and needs are our first priority.
Our 40 bright and airy studio apartments are all individually laid out and lovingly and generously furnished. The combination of modern design, light colours and luxurious materials creates an ambience of well being and relaxation.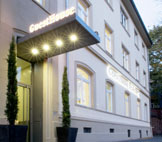 Reservations: Phone +49 6221-87271 0 / Fax +49 6221-87271 70
Reception hours:Monday-Friday: 9 am - 2 pm
Weekend & Holidays 9 am - 11 am
If you plan to arrive outside our reception hours, please contact us.